CRDN's RAREfest20 Virtual
November 28, 2020 @ 10:30 am

-

4:00 pm
Free
RAREfest20
A FREE interactive virtual science, technology and arts event alongside talks and films. For the clued-up and the curious, whatever your age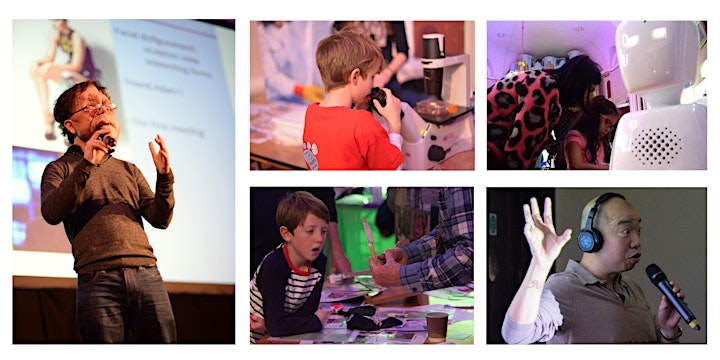 "Heartwarming, uplifting and informative, the world's first-ever festival on rare diseases drew huge crowds to the Guildhall over the weekend of November 30 & December 1″ – Cambridge Independent News. Click the link to read the article
SAVE THE DATE for RAREfest20!
Free to attend, RAREfest20 is a full day Cambridge Rare Disease Network virtual festival featuring interactive exhibits and demos showcasing cool science, visionary technology, and pioneering organisations improving lives and bringing hope to those affected by rare diseases.  Alongside the exhibition there'll be inspiring talks from experts and powerful patient voices, rare disease inspired art and films.
Open to patients, families, children, students, scientists, researchers, health professionals, companies, the clued-up and the curious, whatever your age. Everyone's welcome!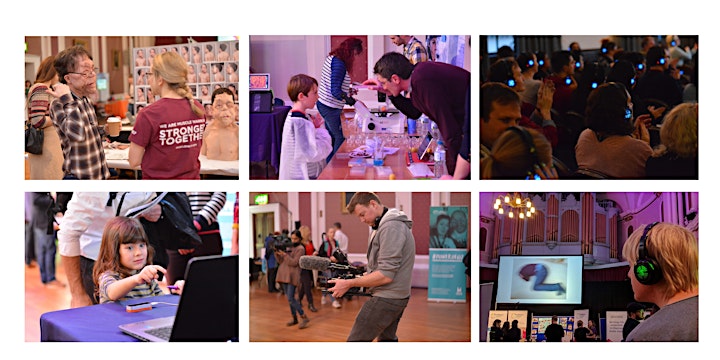 For a sneak peek of what you can expect, head to our RAREfest18 pages brimming with cool companies, scientists, tech experts, health pros, patients and artists who took part in our first RAREfest exhibition. RAREfest20 exhibitor, speaker and film programme will be released later in the year. See the end of this post if you'd like to get involved. 
"The event was absolutely fantastic. It was obvious how much hard work had gone into it and gaining the balance between industry and public interest must have been a tough navigation, which was pulled off unbelievably well." Steve Smith, Head of Rare Diseases & Gene Therapy, Next Phase Recruitment
"Lots of people we've spoken to today are passers-by. They're out doing their Christmas shopping. That's wonderful because it means the topic is broadening out to the wider community". Harriet Gridley, No Isolation AV1 Avatar exhibitor
Why rare diseases?
This area of science and medicine has been neglected for too long, a challenge which often seems too overwhelming and difficult to overcome…3.5 million people with over 8000 rare diseases in the UK alone, 350 million worldwide. But things are changing and progress is picking up a pace and we want to celebrate that with you.
Genomics, genome-sequencing, CRISPR, Artificial Intelligence, robots, powerful patient voices and more research is bringing about a sea change in interest, awareness and hope for a brighter future for those affected.
How many rare diseases do you know?
Did you know that although individually rare, collectively rare diseases affect 1 in 17 people, with over 50% affecting children, many of whom have life-limiting conditions? Did you know there are @3.5 million people in the UK living with a rare disease at some point in their lives? And 350 million worldwide?
In the EU, a disease is classed as 'rare' when less than 1 in 2000 people suffers from it. There are between 6,000 – 8,000 discovered rare diseases, including more well known diseases such as Motor Neurone Disease (which Stephen Hawking lived with), ALS (of Ice Bucket fame), Cystic Fibrosis, and Huntingdon's Disease.  Around 80% of rare diseases are genetically derived.
What about the other 8000? Can you name any others? Do you have a family member, friend or colleague who is affected?  Awareness of rare disease amongst the public and professionals and the support and treatments available to those affected is sorely lacking and without knowledge and understanding it's more difficult to make progress. RAREfest20 is the only exhibition gathering all stakeholders with the aim of educating, engaging and empowering people to challenge this status quo. Be the change you want to see in the world and join us!
GETTING INVOLVED IN RAREfest20
Do you have a great idea, research project, company or charity that is working to improve understanding, treatments options, accessibility and awareness for those affected by rare diseases? Do you want to get involved in helping create RAREfest20? We're looking for exhibitors, speakers, films, and volunteers to get involved on all level.  Does your company want to support the global rare disease community by helping us bring RAREfest20 to the public? Everyone interested, in whatever capacity, can drop us a line at info@camraredisease.org for more information and further discussion. We'd love to have you on board!
Related Events